Mounting your television above your fireplace mantle is a popular design choice. It's a clear area that is usually on the opposite side of the room from the furniture because of the fireplace. But a lot of design experts disagree with the choice, either because they don't like the look of the finished product or because it places the television too high on the wall. Ultimately, the choice is yours. If you do decide to mount your television above your fireplace because it's the best spot for it, here are two common questions to help you start the process.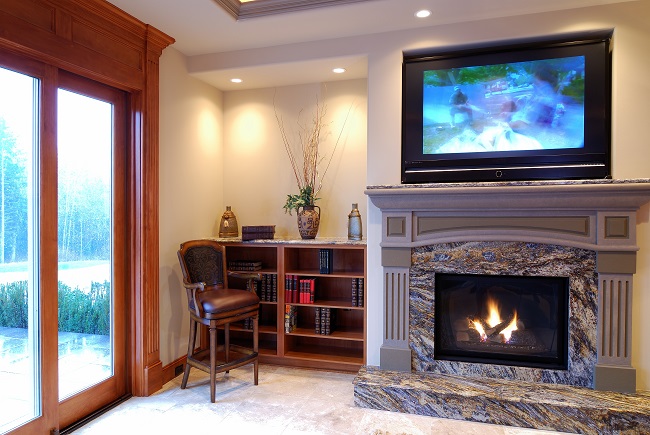 Is it safe to mount a television near my fireplace?
If you use your fireplace often, it's going to generate a lot of heat and smoke. That can be bad for televisions, which are vulnerable to excess heat. Touch the wall above your mantle after you have a fire going for a while and test if it's warm to the touch. If it is, but you still want to mount your television there, look for mounting kits that hold the television away from the wall. Even a bit of separation can protect the internal hardware. Another option is a projector screen that is suspended from your ceiling. This screen will be even further from sources of potential heat damage. It also has fewer fragile components and opportunities for damage.
What if there aren't studs?
Most residential walls are made with wooden frames that are covered with sheets of drywall. The wooden beams hidden behind the wall, or the studs, are the ideal points to mount a television. The wood can handle the weight much better than drywall so you don't have to worry about the bracket falling down. But it might be impossible to find those studs above a fireplace, especially because there will be a large gap for the fireplace itself.
Mounting a TV without studs doesn't mean it's impossible. Instead of a standard mounting kit, there are other other options that we can help with. Give us a call and we can evaluate the mounting location to provide you with the best solution. Call Audio Video Solutions for expert advice on the best position and equipment to mount your television.