Whether you're a big film buff, or you just like to host get-togethers for themed movie nights, chances are good there's a place in your home that could be considered a media room. That's where you keep the extra-wide screen, or possibly your projector, along with the high-quality speakers and the cabinets full of Blu-Ray DVDs.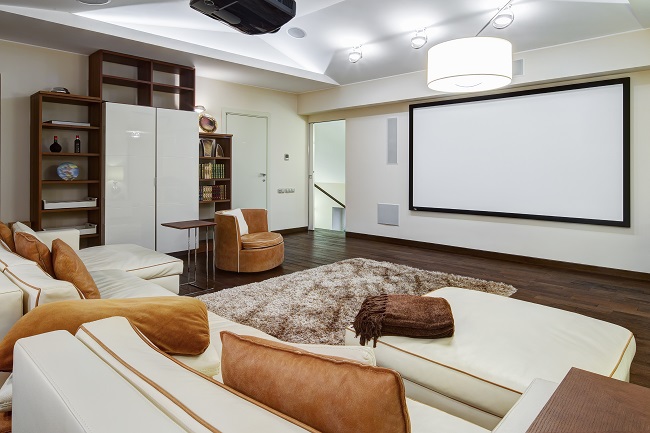 But what else does your media room need? Well, if you want to take things to the next level, you should include…
#1: Proper Wall Decorations
While the big screen is what everyone will be paying attention to most of the time, you should still try to create the proper atmosphere for your media room. That will, of course, vary based on your personal taste, but it's important to establish a theme. As HGTV points out, that could be as simple as hanging framed posters for classic movies on the wall, or you could go as far as hanging thick curtains to give your room a genuine theater feel. But do something to make sure everyone who walks in knows what this room is for.
#2: Proper Seating
While there's nothing wrong with a comfortable couch pointed at the screen, a proper media room feels like more than just a den with a big screen in it. One of the best ways to make it clear that this is the movie room, rather than a room you happen to watch movies in, is to follow Reno Guide's advice when it comes to your seating. Which is that your seating should reflect the room's purpose.
You don't need to have theater style seating, complete with two or three rows each going up on risers, but that is the most convenient way for a lot of people to see a movie without getting in each other's way. Make sure your seats are comfortable, that they provide a good view, and that you have things like snack tables, drink holders, etc. close to hand.
#3: Controlled Lighting
Sometimes you need more than just on/off when it comes to your lighting options, according to Bravas. While you don't necessarily need a remote-controlled shade for your windows, though it's cool if you do install that, you should have varying degrees of dimness for your media room. Especially if you want to make it clear when it's time to sit back, and enjoy the show.
These are just a few things you should consider adding for the ultimate media room experience. For more options, simply contact us today!