Almost every home has a flat screen instead of a box set television because of the increased clarity, visual experience and visibility it offers to a large group of people watching throughout a room. You can take advantage of the enhanced visuals a flat screen has to offer by mounting it to the wall of a dedicated home theater room or in every room in your house that has a television.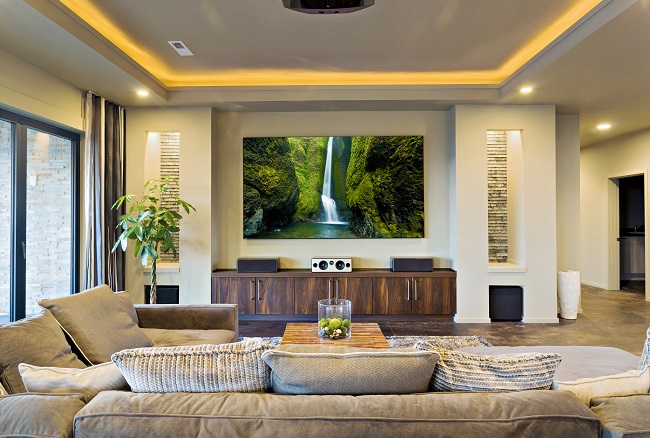 Why should you get your televisions mounted?
Your home theater becomes more like a movie theater. Mounting your television on the wall, whether you have a flat screen television or the screen to capture a projected image, helps transform watching a movie into an authentic theater experience. It keeps your home theater style as minimalistic as possible to reduce clutter and distractions and lets you place it at the best angle for optimal viewing.
It lets you take the best advantage of the space in your home theater room. A mounted television can be hung high on a wall without the risk of a TV stand that can be bumped into or knocked over, which means that the television and the chance of knocking it down is kept far out of reach of small children and pets.
Experts can mount it in the best place to reduce glare and optimize visibility. At Audio Video Solutions, we've been offering professional services for over eleven years. If you want to offset any potential glare or direct sunlight, the type and materials of your wall, and any other TV mounting concerns, hiring a professional who has experienced mounting a television in multiple different settings means that your television placement will perfectly and safely match what you had in mind.
Having your television attached to your wall instead of standing on furniture is a great touch to modernize in your home theater and get the most out of your flat screen, and a professional can help ensure that this is done with long-term safety in mind. If you'd like if you'd like to learn more about how to customize your home theater, please contact Audio Video Solutions here.