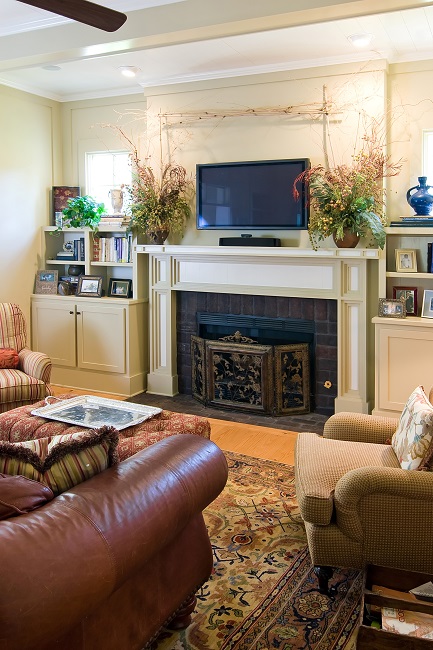 The first thing you do when you move into a new house, start laying out your furniture! This is not always as easy as it seems, with difficult room shape or arrangement, or even small spaces with big furniture. The last thing you want to work into the arrangement is a clunky entertainment set for your tv. You know you want to mount your tv above the fireplace, you dream of how nice and clean that will look, not to mention no added furniture pieces, but the idea of actually mounting it becomes a nightmare.
Mounting Hassles
After knocking around on the wall, or using the stud finder that seems to beep all over or not at all, you find what you hope are studs to hold up your tv, and have that moment of victory. That is quickly overtaken, however, when one person has to hold the tv, getting heavier by the minute, but entirely too expensive to drop; the other person furiously trying to screw in and tighten the bolts but seeming to make little progress. While this sounds comical, it definitely isn't when your arms are shaking, and you just want your tv mounted.
Benefits of A Mounted TV
Having your tv mounted above the fireplace changes the entire feel of a room, and elevates your design instantly. It allows the room not be overtaken by the tv, letting your personal style be the star instead. A mounted tv gives more space, optimal viewing angles, and protection for your investment. Mounting your tv is truly one of the best design decisions for your home you can make, and we can make that simple!
We Can Help!
Instead of rearranging your furniture to accommodate your tv, changing your design aesthetic for that outdated entertainment unit, or rearranging your body trying to mount it, achieve it all through us. Get all the benefits of your tv mounted on the wall without the hassle by contacting us today!